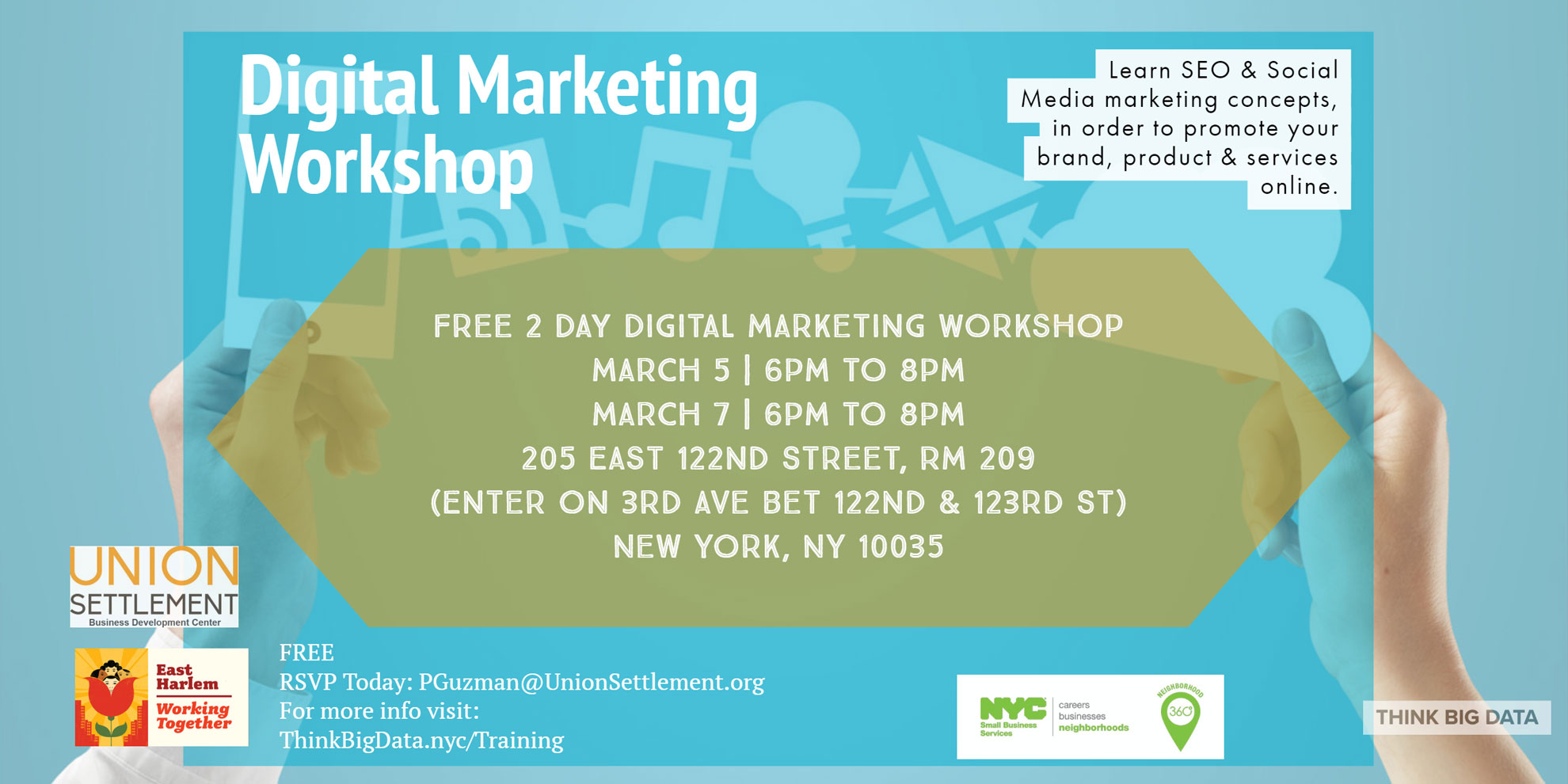 Course: 2 Day Digital Marketing Workshop
This course covers basic digital marketing concepts and best practices (i.e. marketing, business promotion, market share, client segmentation, website, search engine, social media and email marketing) and how these concepts can be applied to an organization's website and other digital assets.
(RSVP is required please see the link at the bottom of this page or click here)
This course also covers the basics of the types of content that can be developed to drive traffic to your website.
The Digital Marketing 2 Day Workshop also discusses 3rd party tools you can use to complement digital marketing efforts. We will review tools, used to track and measure the performance of your campaigns and suggested best practices to drive traffic to your website.
An overview of the time and resources required to manage your digital assets, inbound marketing and linking building.
The instructor will use real world examples by using business owners' in attendance websites to reference during each model.
Each day consist 45 minutes of lecture and 45 minutes of Q&A.
Prerequisites:
Basic business management understanding, has used the internet to purchase goods or services for themselves in the past and uses already the internet from a PC or mobile device to find information.
Time: 6pm - 8pm (both days)
Dates:
March 5, 2019
March 7, 2019
Workshop Modules:
Day 1 Modules:
Date: March 5, 2019  -  6pm - 8pm
What is Digital Marketing?
What Digital Marketing means today and how it can benefit your business.
SWOT Analysis | Competitive Advantage
How is your business performing on searches online compared to your competition.
Understanding your online market, What's your competitive advantage? Segmentation - B2B or B2C
Understanding Search Engines
Basic of search engine optimization, Layout of Google SERP / How Google returns search queries.
Day 2 Modules:
Date: March 7, 2019  -  6pm - 8pm
Understanding Content Management Systems | What is Digital Content
(CMS) Wordpress & Drupal and Build your own platforms (Wix, Square Space, etc). What is Digital Content (video, images, copy, audio, blogging) Inbound Marketing.
SEO | Google Analytics & Google Search Console
Search engine optimization for businesses, understanding Google Analytics and Google Search Console
Social Media, Paid Advertising, Email Marketing
General use of these tools and how they fit into a digital strategy.
Who is this course for?
A business owner interested in learning about marketing their business online and may not have a website yet. It is also for a business owner already operating a website and looking to expand their market to an audience who is searching for their goods or services online.
Expected Outcome:
Student will have a basic understanding of digital marketing concepts to apply directly on their own business website or on the future construction of a business website.
Student will be able to design a general digital strategy for their business.
Business owner will also be ready to launch a digital marketing campaign for their business on their own or possess the knowledge to conduct a search for a consultant or full-time employee to manage their digital assets.
Course materials:
Printed handouts and digital PDF versions in an eBook format.
Hours: 4
---
What to bring?
Printed handouts will be distributed and digital PDF versions in an eBook format will be available to download.
You do not need to bring anything other than something to take notes on.

How to participate?
The 2 Day Workshop is FREE and open to all businesses.
Seating is limited please RSVP by sending an email to PGuzman@UnionSettlement.org
Dates:
March 5, 2019  6pm - 8pm
March 7, 2019  6pm - 8pm
Location
Union Settlement
205 East 122nd Street Rm 209 - (enter on 3rd Avenue between 122nd and 123rd Street)
New York, NY 10035